Free Bird


Track

Original Title

Free Bird ~Mahiru no tsuki e to~

Translated Title

Free Bird ~To the midday moon~

Soundtrack Information

Arrangement

Kou Otani

Performed By

Heart of Air

Track Information

Length

2:31 minutes

Track Number

2.

Album
Previous                     Next    
Free Bird is the opening song for Haibane Renmei. The arrangement featured in the anime is entirely instrumental, though there is a full version featuring vocals by Yoko Ueno and Masumi Itō of the group Heart of Air, who also performed the ending song, Blue Flow.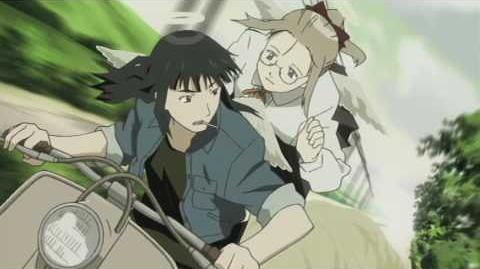 久遠(くおん)の静寂(しじま) やがて空に
碧く 碧くとけて滲んで
真昼の月の薄い影は
すぐに すぐに未来を呼ぶ

大地の息吹に
包まれたら 何処へ涙還るの?
傷ついてもいのちは
優しく強くなるよ

無限の祈り捧げながら
今を 今を静かに閉じて
聴こえる音色 森の彼方
はやく はやく声にかえて

世界の全てに
赦されたら 愛の意味わかったの
旅立つ日の雲から
光が不意に見えた
kuon no shijima yagate sora ni
aoku aoku tokete nijinde
mahiru no tsuki no usui kage wa
sugu ni sugu ni mirai wo yobu

daichi no ibuki ni
tsutsumaretara doko e namida kaeru no
kizutsuite mo inochi wa
yasashiku tsuyoku naru yo

mugen no inori sasagenagara
ima wo ima wo shizuka ni tojite
kikoeru neiro mori no kanata
hayaku hayaku koe ni kaete

sekai no subete ni
yurusaretara ai no imi wakatta no
tabidatsu hi no kumo kara
hikari ga fui ni mieta
Before long the eternal silence
Will melt in the blue blue sky
The pale shadow of the midday moon
Will soon, soon call the future

When wrapped up by the earth's breath
Where will the tears come back to?
Even if hurt, life will
Become kind and strong

While offering a limitless prayer
Quietly close the now, the now
The timbre you hear, beyond the woods
Hurry, hurry, say it in your voice

When I was forgiven by everything in this world
I understood the meaning of love
From the clouds on the day of flight
I could suddenly see the light
Ad blocker interference detected!
Wikia is a free-to-use site that makes money from advertising. We have a modified experience for viewers using ad blockers

Wikia is not accessible if you've made further modifications. Remove the custom ad blocker rule(s) and the page will load as expected.